Reviews about our services
External published feedback
We think the best appreciation of our services is given by our clients. That is why we present below some (197) external pages with comments.
Received reviews
I had a wonderful trip! Everything went well (with the exception of the weather). The organisation was good and Fredy was informative and patient. Overall it was a tough but very memorable experience. I would definitively recommend the trip!
Very nice guide, friendly. Very good meals! An unforgettable experience. I won't forget it!!! Thanks.
Bravo! for the organisation of the trek, everything was perfect, even the weather! I will recommend without any problem your website which is really complete and brings all the necessary information besides offering a secure and easy booking.
On december 29 I booked my Trek for January 1st. Everybody (even travel agencies) told me it was impossible to book in such short notice. Not only it was simple and fast but thanks to you I had an unforgettable first day of the year. Cheers to the team and thanks to all the companions of this Trek.
Con mi esposa recorrimos el Camino Inca con ustedes. Soy quien les solicitara una carpa tamaño extra large (por nuestra altura), pedido que fue particularmente atendido, por lo que también estamos muy agradecidos. Realmente pasamos unos días inolvidables recorriendo ese sendero. Como toda empresa es un equipo, vayan nuestras felicitaciones para todos, desde la recepción en el aeropuerto por Jackie, pasando por vuestra atención en las oficinas, y durante toda la caminata, tanto por el guía como los porteadores y cocineros. Todos nos trataron con mucha calidez y cortesía.
Desde ya, muy agradecido. Estamos muy conformes con los servicios brindados por la Empresa y la cordialidad de su personal que está muy acorde con la hospitalidad y calidez que hemos percibido de todo el pueblo peruano. Una vez mas: ¡Gracias!
We wanted our honey moon in Peru to be an unforgetable experience and in a large way we owe it to the Inca Trail. Thanks to the agency, and specially to our guide Hipolito, we have spent four splendid days. We recommend this adventure trip for many reasons, but we emphazise the organization, the effort made by porters, the food, the gear provided, the explanations and the interest shown to offer us your culture.
We are sorry but we have left you without a small piece of the Trail because we have taken it into our hearts. Keep working like that. Thank you very much.
We have booked our trek through your website. The process was very easy and, from the beginning, we were sure that everything was going to be perfect. That was the case because our Trek has been an unforgettable experience. Thanks!
While looking on the Internet, I thought that booking for the Inca Trail was hard. Thanks to you, I found a simple, fast and secure way to do it. Now I know that if I ever do it, it will be through your services.
We were 8 friends (4 couples) and we wanted to do the inca trail. After having contacted several travel agencies, we wanted to give up (they didn't know if there was availability, we had no guarantees, etc.). Then we found your agency. Bravo!, everything was perfect, from the reservation to the trek itself. We have an unforgettable souvenir from Peru and the trail.
Everything was great: they came pick us up directly to our hotel in the morning, we began the trelk and we really had 4 amazing days, on a spiritual level as much as for the beauty of the place. I tell all my friends to use yor services as soon as they mention Peru. Our only question now is : When will we go back? Thanks for everything, keep working like that!
You don't only offer a great price, you offer quality too. Our trek was really great. Good job guys.
To terminate, we would like to share the drawing from the talented and nice artist Marçal that reproduced his trek organized with us. It's a great honor to receive this superb and unexpected gift.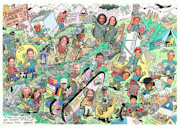 If you have also used our services, your comments are most welcome. Please, write to us at: info@inca-trail.com.pe.